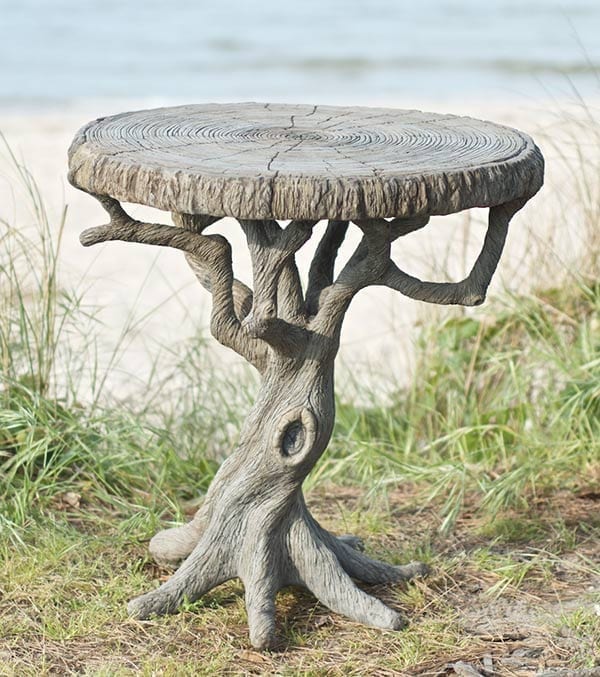 Artist Impression of a Tree made in Concrete
* WINNER – 2015 SURECRETE PHOTO CONTEST HONORABLE MENTION *
Congratulations to Diane Husson out of Norfolk, Virginia for winning the 2015 SureCrete Photo Contest Honorable Mention!!! The craftsmanship and artistic design shown in sculpting this concrete garden furniture to look like branches and vines was simply so good, we couldn't leave it out of our 2015 SureCrete Photo Contest Winner's Circle!
This simple, but unique look was the result of an artist's vision and was brought to life through the unique use of  concrete casting blends which were sculpted over an armature without the use of molds. The time and effort is definitely appreciated with the sculpted details of this piece!
* WINNER – 2015 SURECRETE PHOTO CONTEST HONORABLE MENTION *
Website:  http://www.newrelics.com
Facebook:  Diane Husson Sculpture
Diane's process and inspiration:
Nature has always been a running theme in my artwork and I am inspired by forests, gardens and natural rock formations. Concrete enables me to fulfill my vision of three dimensional freestanding functional sculptures. High performance blends like Surecrete's Extreme series give me the confidence that my "faux bois" (false wood in French) outdoor garden furniture will stand the test of time.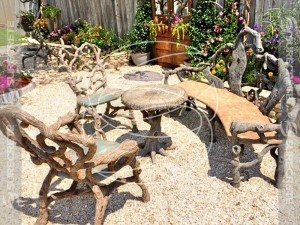 Each piece of furniture begins with a study of actual wood. I have thousands of photos of all types of branches, logs and trees that I've taken over the past several years. I also have sticks and driftwood in my studio and around the garden for references.
Next I come up with a design and weld an armature from rebar. It's covered with lathe and coated with a rust convertor. I pack Surecrete's Extreme series onto the armature and do the finish coat with either Face Mix or a mix of pozzolans and portland cement. I color the furniture with Eco Stains and seal them with XS-327.
My designs, processes, materials and procedures are evolving as I learn more and concrete technology moves forward. Whether I'm casting wall sculptures or backsplashes or sculpting furniture or rock walls, Surecrete has been true a friend on my artistic journey.