SolidState Concrete Design  – Surecrete Store #3406

Company Information:
Solid State Concrete Design
10 Symington Pl
Rochester, NY 14611

The Solid State Concrete Design team is made up of artists and contractors who create sustainable products with trend conscious customers in mind.
Everything from countertops to vanities, Solid State can provide the key elements to distinguish any space. Concept to creation, we work hard to uniquely represent who you are.
It is important to understand the difference between a concrete slab that's used as a top, and the refined product designed by Solid State. Solid State is polished in every sense of the word. Soothing to touch, beautiful in texture, rich in color, elegant lines, and inspiring designs are just a few of the elements that describe each unique piece. We've partnered together with SureCrete Design Products to be able to provide the highest quality concrete overlays, precast products, colorants and sealers available on the market today.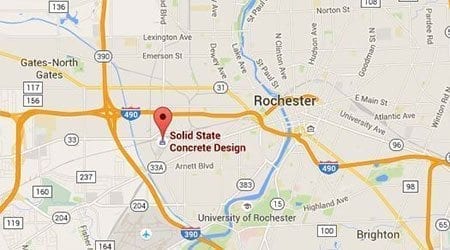 News and Events
Please call for all upcoming Events and Training
Surecrete Products Stocked at This Location:
Surrounding Townships & Cities
Buffalo
Irondequoit
Syracuse
Lockport
Brockport
Newark
Auburn
Geneva
Batavia
Gaines
Surrounding Counties
Monroe
Niagra
Ontario
Wayne
Livingston
Local Hospitals of Rochester, NY
Strong Memorial Hospital
601 Elmwood Ave
Rochester, NY 14642
Highland Hospital
1000 South Ave
Rochester, NY 14620
Monroe Community Hospital
435 E Henrietta Rd
Rochester, NY 14620
Major Sports Teams & Venues
Rochester Knighthawks at Blue Cross Arena
Rochester Rhinos at Sahlen's Stadium
Western New York Flash at Sahlen's Stadium
Most Popular Rochester, NY Hotels & Resorts
Best Western Rochester Marketplace Inn
La Quinta Inn
Comfort Inn West
Courtyard by Marriot
Hampton Inn
Largest Main Roads and Highways
Commercial Street
Goodman Street
Main Street
Regional Airports
Greater Rochester Int'l Airport
Norcross Heliport
Strong Memorial Hospital Heliport
Major Rochester, NY Schools
University of Rochester
Monroe Community College
Rochester Institute of Technology
Local Events & Venues
UK Car Day, Genesee Valley Park
Little Italy Festival, Gates Memorial Park
Celtic Faire, Genesee Country Village & Museum
Largest area churches
Tried Mission Church of God in Christ
Church of Christ
Holy Ghost Church
Area Codes used in and around Rochester, Solid State Concrete Design
Most Populated Zip Codes: 14612, 14626, 14616, 14615, 14620, 14646, 14652, 14692, 14694 and 14650.