CONCRETE SLAB & WALL FINISH OVERLAYS
Horizontal Concrete Overlay Products
Wall Concrete Overlay for 3D Designs and Textures Products
Horizontal Concrete Overlay Products
Choosing the ideal overlay for your interior or exterior floor is made easier through the dry polymer technology in our cement based, single component, mix bag formulations.
Thin Concrete Overlay Micro Topping Smooth Tight Troweled MicroTek™ One Coat
Sprayable Concrete Overlay Mix For Making Floor Thin Textures – SureSpray™
Concrete Knockdown Overlay Mix For Making Thicker Textures SureTex™
Concrete Broom Overlay Resurface Old Concrete Mix 6000 PSI SureBroom™
Stamp Concrete Overlay Product for Thin Concrete Stamping SureStamp™
What are the different types of concrete floor overlay products?
What is a Concrete Overlay?
Answer: A concrete overlay is a thin color concrete cement based products that go over existing concrete for repair or decorative reasons. Overlays can be applied as thin as a feather finish up to in most cases 3/4″ depending on the desired finish. Concrete overlays, however, are only as good as the substrate it is being applied to. Example, if the concrete is cracked or coming up, the overlay will also break and come up and replace the concrete should be your option.
There are ways to strengthen or treat existing concrete, however, because the ground moves depending on weather conditions, and moisture, there are never any guarantees the overlay will delaminate or crack. Surface preparation and crack repair to essential for a concrete overlay to last at a lower cost.
What is stamped concrete overlay?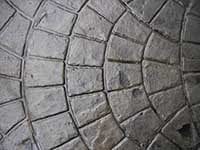 What is a Deep Texture Stamped Concrete Overlay?

Stamp Overlay – SureStamp is a single component, (just add water) stampable cement coating, designed for beautifying both interior and exterior concrete surfaces. When stamped, it creates a texture that can resemble a whole array of stamp designs: tile, cut stone, slate, brick, cobblestone, etc. SureStamp offers concrete restoration, repair, resurfacing, architectural accenting and surface protection and stamping patios. SureStamp has Zero VOC's and is designed to have an excellent bond in freeze-thaw climates. Nothing looks better on your concrete than stamped concrete patios, pool decks and much more.
This bag mix can be used on a driveway, flooring kitchen tiles, pool deck, patio or on any other concrete surface that needs to be resurfaced for any design concrete floors. Contractor concrete stain floors after the overlay material will help get the look you might desire.
What is a Knockdown Overlay? Light Texture (Troweled Application)

SureTex is a single component, (just add water) trowel-able or spray cement coating for creating a knockdown texture for both interior and exterior concrete surfaces. The knockdown texture contributes to a nonskid cement surface a contractor or homeowner can apply. Typical areas of application include pool decks, patios, walkways, and driveways for both residential and commercial projects. SureTex is formulated to provide excellent bonding to new as well as existing concrete surfaces including freeze-thaw climates. Add Surecrete's floor stains to color and Accent to the desired look.
These staining concrete floors can be achieved using Eco Accent and Eco-Stain.
What is a Thin Concrete Overlay?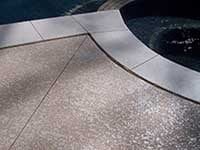 SureSpray is a single component, (just add water) trowel able or sprayable, cementitious coating for texturing both interior and exterior concrete surfaces. SureSpray delivers a multitude of textures from trowel down, wet bubble, stencil patterns, euro-stone, bubble texture, etc… Each design contributes to a nonskid cementitious surface.
Typical areas of application include pool decks, patios, walkways, and driveways for both residential and commercial projects. SureSpray is formulated to provide excellent bonding to new as well as existing concrete surfaces including freeze-thaw climates.
What is a Broomed Concrete Overlay? (New Concrete Texture)

Broom Finish Overlay – SureBroom is a single component (just add water) cementitious coating that can be applied via trowel, squeegee, or sprayed. SureBroom is designed for leveling and re-texturing both interior and exterior concrete surfaces. When broomed, it creates a texture that resembles freshly poured and broomed concrete.
Typical areas include parking decks, driveways, sidewalks, parking lots or any horizontal concrete surface requiring repair of spalled areas, low spots, etc. SureBroom is applied with a base coat using squeegees and then broomed. When used properly the newly broom surface creates a slip-resistant finish that is ready to be sealed to protect against staining.
SureBroom is suitable for heavily trafficked areas and is formulated to provide excellent bonding to new as well as existing concrete surfaces including freeze-thaw climates.
Concrete slabs are not installed with the mindset of it being a finished floor. These type of surfaces can include driveways, walkways, basements, pool decks and patios, and storefront entryways. Regardless whether they are outside or inside the home or building, every concrete floor can be upgraded to a finished floor through the use of concrete overlays.
Decorative horizontal concrete overlays come in options such as white or gray cement, self-bonding or dual component, and how thin or thick they can be applied. How should you choose which type to use is not complicated, start by selecting which cement color is best for your project. White concrete overlays allow for brighter and more vibrant color palates, and gray will allow for richer and deeper color.
Next, you need to understand what kind of texture you need. Overlays have the ability to be as thin as a business card or thick enough to create an impression with 3-D visualization. Installing the appropriate texture is made easier when you choose the concrete overlay made with that purpose.
Single component versus dual component seems to be a personal preference rather than one better than another. Dual element overlays start by applying Primer acts as the bond of the original concrete surface to the newly applied horizontal overlay. Through this process, you have a strong chemical bond only. Single components are different in that they give a mechanical and chemical bond to the surface.
This is accomplished through the use of dry polymers, activated by water during mixing, and a fine aggregate. This combination acts as hooks in the pores of the concrete surface giving the highest bond strength available.
Polymer cement overlays are used for interior and exterior applications ranging from:
•Skim coat/broom finish concrete is resurfacing – Restore and protect damaged, pitted, flaking and stained concrete back to the look of a new concrete surface. See our Sure Broom product for more information.
•Concrete regrading & leveling – Repair and level concrete surfaces that have settled. Check out our Flash Patch and Deep Level products for these applications
•Existing substrate is redecorating and renovating – Alter the appearance of existing concrete or wood substrates through applying "thin stamped" or "thin stained" overlays, creating new textures, colors, and designs. For use on a commercial or resident pool deck, this frequently takes the form of "splatter textures" or "knockdowns," in which polymer cement is applied to the existing concrete substrate in a moderately textured finish (average of 1/8" thickness) in various patterns.
Often, the texture is knocked down with a trowel to slightly modify the appearance and feel of the finished application before a stamped pattern can be applied.
Wall Concrete Overlay for 3D Designs and Textures Products
Stucco replacement textures including 3-D carvable veneers are the go-to choice for creating new finishes for both inside and outside wall surfaces.
Thin Concrete Wall Spray Overlay Decorative Vertical Texture WallSpray™
Concrete Wall Stamp Overlay Mix Thick Build Carvable WallStamp™
What are the different concrete wall overlay products?
This is a just add water Concrete Overlay Mix. Sometimes, stucco and drywall just aren't enough to meet your needs. If you want to create a truly realistic custom rock wall in your home, our specially formulated Wall Stamp bag mix will give you all of the creative licenses you need to make everything from the entirely realistic to the incredibly beautiful and surreal sculpting that an artist would love.
If you're looking for a thinner application, but still want the strength of concrete supporting your wall system, our Wall Spray product will be right up your alley. With the incredible versatility to be troweled or sprayed, this product can create a wide variety of looks and designs at a similar materials cost to regular stucco applications.
At SureCrete we strive daily to be the leaders in concrete innovation. Our vertical overlay mixes are perfect examples of just such innovation. Easy to acquire, easy to design, easy to mix, and even easier to apply. Let's face it; these vertical overlay mix products just make it easy to turn your walls into beautiful art pieces.
What are decorative vertical concrete overlays?
These overlays help protect the wall surface without compromising the look. Generally speaking, vertical overlays differ from horizontal overlays due to reducing the weight of the material so that it can hang on the wall without sagging. Vertical concrete overlays do not have to be used on just concrete. Other surfaces can include drywall, foam, ICF, block, brick, plywood, Glass, and other building materials. Depending on the surface, additional products may be necessary for adhesion, moisture intrusion, and strength.
Concrete Overlay Bag Mixes for Resurfacing Damaged or Dull Looking Floors and Walls
Do you have a damaged concrete slab in desperate need of repair and resurfacing? are you looking for a fresh new look for your floors or walls? SureCrete's pre-blended overlay bag mixes provide the widest variety of design and application flexibility. Utilizing easy-to-use, just-add-water mix designs, we'll enable you to create your ultimate masterpiece or just give you a nice, clean surface for your project.
While many of our bagged overlays can be utilized in a wide range of applications, we have designed and formulated our mixes specifically to fit better your specific project needs, which will allow you to create your desired surface more quickly. At SureCrete we pride ourselves on staying at the forefront of innovation in the decorative concrete overlay industry so that you will always be using the best overlay mixes. We're confident that we have a product that will perfectly match your needs.
If you find concrete to be dull and boring, our overlays floors concrete can help.
Over time, every concrete surface could use a slight face-lift. We've made sure we can provide you with the overlay products you'll need to create any design, whether for a commercial or residential application. Thinner applications can be achieved beautifully with Micro Spray or Micro Topping, to create a beautiful blank canvas for staining or to mimic small ceramic tile patterns concrete designs of your choosing like kitchen floors.
For a slightly thicker texture depth, we've specially blended the very versatile SureTex and SureSpray mixes to create concrete patterns. Creating "slop-troweled" or sprayed-on bubble textures commonly used in outdoor patio/entertainment areas, these combinations allow for easy application for your overlay needs. We also provide the SureBroom product for those that only wish to recreate that brand-new, freshly-poured concrete look.
For creating those dark textures of carved stone or thick, a concrete contractor can custom-imprinted floors, SureStamp is the product that will best suit your needs. No matter what your design entails, we at SureCrete remain at the forefront of providing you easy access to project-specific overlay mixes to best suit your job site needs mostly, concrete home needs like concrete patios, and color stamped.