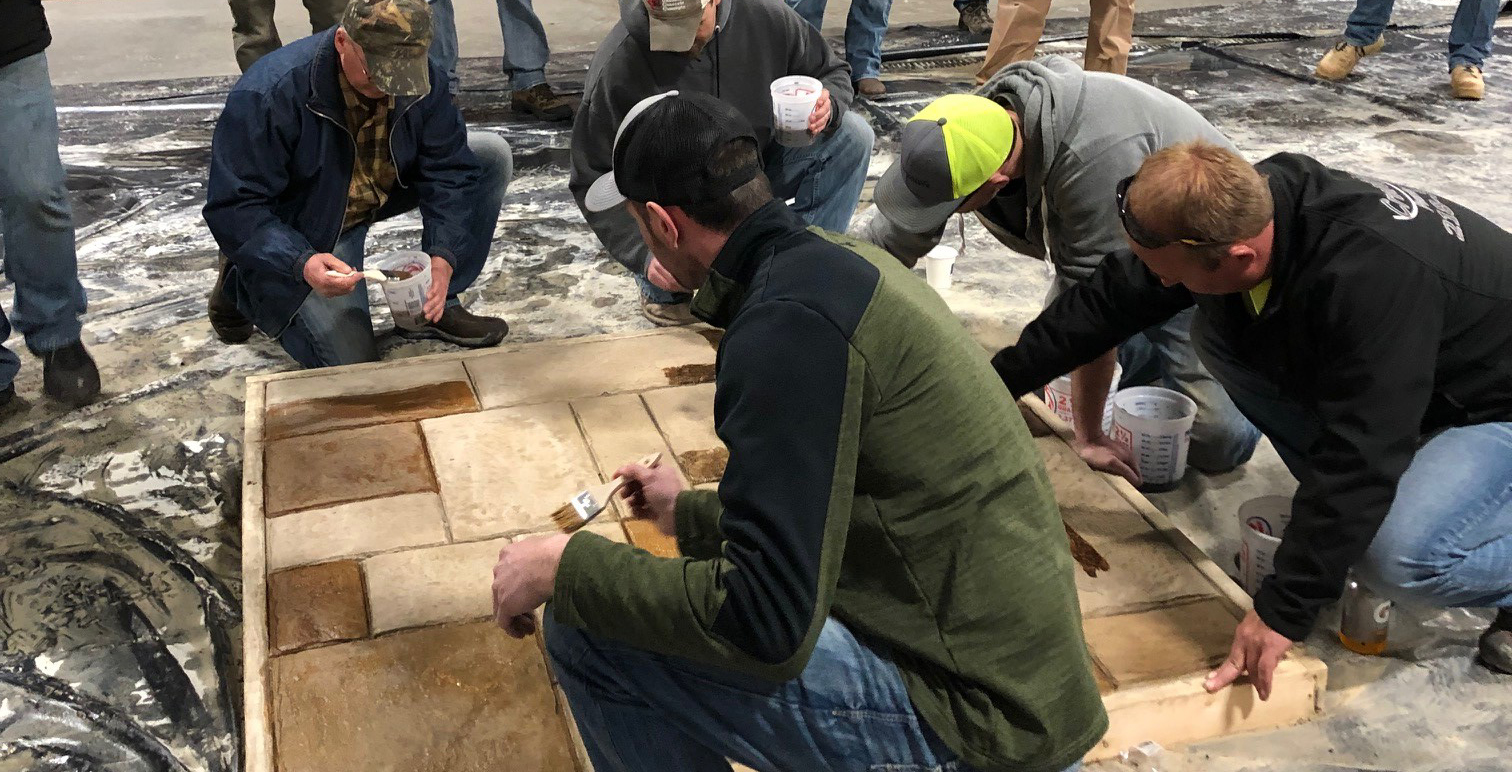 Upcoming Decorative Concrete Training Class Courses
SureCrete offers hands-on concrete training course and continuing education courses for Decorative Concrete, Concrete Countertops Classes, GFRC, Stamped Concrete, and Vertical Concrete Coatings. Each concrete training course is designed to help you understand the application on concrete surfaces as floors, walls, ceiling tiles, wall panels, countertops, and furniture. Most of our Concrete Training Courses are held at the SureCrete corporate facility in Dade City, Florida USA, as well as our satellite distribution centers around the country. Look below for concrete training course descriptions, dates, and locations.
Concrete Countertop and GFRC Training Course
The 3 – Day SureCrete Concrete Countertop and GFRC Training Course, is designed to teach you to become a professional concrete countertop applicator. This course will give you the essential knowledge to template, form, design, pour and finish concrete countertops, wall panels, integral sinks and custom fabrication for both residential and commercial applications. The intense, hands-on program is held at the SureCrete Training Academy in sunny Florida, USA. Over the 3 – Day training course you will learn how and when to use the Xtreme PreCasting mix, Xtreme GFRC Face Mix and why to use the Xtreme Backer mix on every project. This technology allows you to cast concrete wall panels and countertops larger and longer than traditional concrete mix designs. As you become proficient in reinforcing your concrete pieces through fiber reinforcement technology, you will learn how to cast as thin as 0.75″ thick and bend it into decorative and functional shapes. Included in this course agenda, are principles that will help you setup up your business professionally and how to increase your community exposure through online, print and social networking strategies. A complete reference training manual comes at the beginning of day one. As you go through the course, you may write down specific reminders, take photographs and video tape your progress. SureCrete provides explicit online videos so that you can refresh your mind at future dates. Course Cost (1st person): $895.00 2nd person: $495.00 Maximum Class Size: 10 Length: 3 – Days Price includes light breakfast, lunch, and training manual. First person cost includes 16 in x 16 in sample making the mold, 4 in x4 in sample making a mold, color swatch samples, finished texture samples, the creation of a bathroom vanity w/ integral sink, training manual, marketing and pricing tools, online and social networking tips.
Stamp Overlay – Spray Textures – Concrete Stain Training Course Concrete Industries Job
This concrete decorative training course is designed to help you cover a decorative concrete floor coating applicator. Regardless of how long you have been in the industry, our staff will look to teach you time savings techniques, new and faster concrete coloring systems and a variety of interior and exterior sealer applications that can compliment your current knowledge and experience. You will also receive concrete training for multiple ways to create a slip-resistant floor for commercial and residential applications. The 3 – Day course will allow you to work for hands on in a small class room size of 5-10 applicators. You will have the ability to train in stamp overlays, spray textures, thin concrete overlays, micro-toppings, water based concrete stains, stencils, tape patterns and specific stamping tools. During your decorative concrete floor coating training course, you will use an eco-friendly concrete surface preparation system, zero VOC self-bonding overlays, zero VOC water based concrete stains, and low odor / low VOC sealers. At the end of the third day, your company will be able to offer and install "GREEN" environmentally friendly concrete floor coating systems. Course Cost: $895.00 Maximum Class Size: 10 Length: 3 – Days Price includes light breakfast, lunch, and training manual.
Vertical Concrete Coating Training Course
A hands-on course that will aid you in becoming proficient in lightweight vertical concrete mixes and overlays that can apply via trowel or sprayed through a hopper. Also, you will become skilled at new coloring techniques that deliver faster more accurate designs, and are sprayable! The course ends with an education on multiple sealer choices: transparent water proofing, thin film satin, and high gloss high wear surfaces. WallSpray is an eco-friendly stucco replacement for ICF, EFIS, concrete block, brick and wood surfaces. The vertical concrete training course teaches you how to overcome flex in your wall and avoid cracking, how to make gout lines disappear, multiple textures and finishes and Venetian plaster designs. WallStamp is a carvable and stampable lightweight concrete overlay designed for vertical walls, waterfalls, and rock features. Course Cost: $695.00 Maximum Class Size: 6 Length: 2 – Days Price includes light breakfast, lunch and training manual.